Recipes from Johnny Vee
Yogurt, Berry & Granola Parfaits
Serves 6
For the Granola:
1/4 cup apple juice concentrate, from frozen, thawed
2 Tablespoon real maple syrup
1 cup store bought granola, any brand
2 cups steel cut oats
1/4 cup raisins
1/4 cup toasted sesame seeds
1/4 cup sliced almonds, lightly toasted
1/4 cup pecans, lightly toasted
1/4 cup flaxseeds, lightly toasted
Warm apple juice concentrate in a small saucepan. Dissolve maple syrup in juice and set aside. In a large, deep mixing bowl, combine remaining ingredients. Toss until completely mixed. While tossing mixture wth large spoon, drizzle apple juice mixture over granola and mix well. Scatter granola onto large cookie sheet and bake at 250 degrees for 45 minutes or until nicely browned and apple juice is completely evaporated. Cool and store in airtight container.
For the Yogurt:
2 cups low fat goat's milk yogurt
2 Tablespoons real maple syrup
2 Tablespoons cold pressed walnut oil
Whisk together all ingredients in a medium bowl and chill until ready to serve. To assemble:
6 large wine glasses
3 cups granola
2 cups yogurt as above
3 cups mixed fresh berries for garnish
Fresh mint for garnish
Spoon a quarter cup of granola into the bottom of each glass. Add three tablespoons of yogurt and then a quarter cup of berries. Repeat the layering one more time ending with berries. Garnish with berries and sprigs cf mint and serve immediately.
SWEET CRAB EGGS BENEDICT
Serves 4
1/4 cup butter
4 cups baby spinach, washed and drained
1 cup fresh crabmeat
1 teaspoon sugar
2 Tablespoons white vinegar
8 large eggs
1/2 cup hollandaise sauce
4 English Muffins, split, toasted and buttered
Salt and Fresh Cracked Pepper
2 teaspoons chopped chives
Melt 2 tablespoons butter in a large skillet. Add spinach and sauté over medium heat until the spinach has wilted. Season with salt and pepper and set aside, keeping warm. Melt remaining butter in medium saucepan and add crabmeat and sugar. Sauté until crabmeat is heated through. Fill a large deep saucepan with cold water. Add the vinegar and bring to a full boil then turn off the heat. Carefully crack the eggs into the hot water. Turn heat to low and gently poach the eggs to desired doneness. Meanwhile top each half of the muffins with divided spinach and then crabmeat. Drain the eggs with a slotted spoon and place on top of crab. Ladle 1 tablespoon of hollandaise over each egg and garnish with cracked fresh black pepper and chives.
Chef Chat- If your eggs and spinach have cooled off as you are assembling the dishes, pass each plate under a preheated broiler for one minute before garnishing.
Blender Hollandaise
Makes about 1 cup
3 egg yolks
1/2 teaspoon salt
Dash of cayenne pepper
1 Tablespoon cream
1 cup (1/2 pound) melted sweet butter, heated until bubbling but not brown
1 Tablespoon lemon juice or white wine vinegar
Place egg yolks, salt, pepper and cream in blender, blend for a few seconds at high speed until you have a smooth frothy mixture. Still at high speed, start adding hot butter in a thin, steady stream, not too slowly. As you add butter, the sauce should thicken. When half the butter has been added, add lemon juice or vinegar. Continue blending until all butter is used.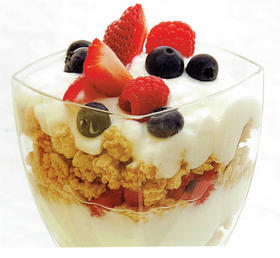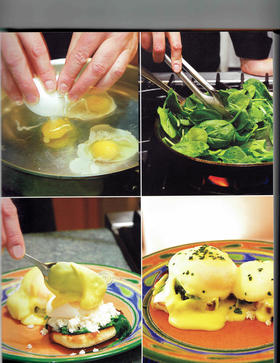 CHORIZO, CHICKEN & SEAFOOD PAELLA
Serves 8-10
3 Tablespoons olive oil
1 chicken, cut into 6-8 pieces
8 oz. pork loin, cut into 6-8 pieces
1 lb. Chorizo, sliced in 1/4 inch pieces
8 large shrimp, in the shell
2 red bell peppers, diced
2 medium onions, finely chopped
4 garlic cloves, finely chopped
4 Roma tomatoes, diced
1/4 cup Spanish sherry
1/2 teaspoon smoked paprika
Pinch of saffron
3 cups short grain Bomba or Calasparra rice
8 cups chicken stock
2 Tablespoons parsley, finely chopped
Salt to taste
1/4 cup fresh or frozen peas
1 lb. black mussels, scrubbed and rinsed
Heat oil in a large (16"-18") paella pan set over medium heat. Sauté chicken pieces in oil until golden brown, remove from pan and set aside. Add the pork and chorizo and sauté in the same oil until crisp. Remove them and set aside. Sauté the shrimp for 3 minutes in the same oil, adding more if necessary, remove them from pan. Make the Sofrito: sauté onions in the same oil until onions soften slightly, and then add peppers and tomatoes, mix well. Allow mixture to simmer over low heat for 10 minutes. Make a well in the center of the pan and add Spanish sherry, smoked paprika and saffron. Add rice and stir to combine. Add 1 cup stock, bring to a boil then reduce heat and simmer for 10 minutes. Return the chicken, pork and sausages to the pan and then remainder of stock. Increase heat to medium-high and cook, without stirring, until rice starts to swell, about 15 minutes. Stir in parsley and check rice for salt and adjust. Nestle mussels into the rice and reduce heat to low. Continue cooking until the rice is done and the liquid has evaporated about 15 minutes more. Gently stir in peas and nestle shrimp into rice. When paella is finished, let stand 5 minutes off the heat before serving.
ROSEMARY FLATBREAD
Makes 12 8-inch breads
4 cups flour
2 teaspoons baking powder
1 teaspoon kosher salt
2 teaspoons finely chopped fresh rosemary
2 cups plain yogurt
1 tablespoon olive oil + 1/4 cup, plus additional for roasting garlic
3 heads garlic
Extra olive oil for spreading
Mix dry ingredients, including rosemary in a large bowl. Stir in yogurt and 1 tablespoon olive oil. Knead until dough is smooth. Cover dough with a damp cloth and allow to rise for one hour. (1/2 hour at high altitude). Meanwhile, cut 1/4 inch off the top of each head of garlic. Place in an oven-proof dish and drizzle with olive oil. Sprinkle garlic heads with salt and pepper and pour 1/4 inch of hot water into the bottom of the dish. Cover with foil and roast at 400 degrees for 45 minutes or until the garlic is golden brown and soft. Allow to cool and squeeze the heads over a bowl so the individual cloves pop out. Mash garlic and 1/4 cup olive oil with a fork and set aside.
Cut dough into 12 pieces and roll each piece into a ball. On a lightly floured board, roll each ball into an 8-inch circle. Heat caste iron skillet and brush with olive oil. Cooking one flatbread at a time, cook 2 minutes on one side and then flip and cook 1 minute on other side. Serve with a sprinkle of kosher salt, brushing of olive oil and roasted garlic.
Alternatively, grill each flatbread over high heat about 2 minutes on each side or until flatbread is nicely browned and bubbled up. Brush with olive oil, garlic and kosher salt as above.
TZATZIKI
1 cup plain yogurt
1 cup sour cream
1 cucumber, finely chopped
2 cloves garlic, crushed
1 Tbsp. onion, chopped fine
1 Tbsp. lemon juice
1 Tbsp. chopped parsley
2 1/2 tsp. Smoked Spanish Paprika
Salt & pepper, to taste
Mix together and refrigerate
Red Chile Lamb Shawarma
Serves 8
2 cups plain yogurt
1/4 cup distilled white vinegar
1/4 cup olive oil
3 Tbsp. lemon juice
3 cloves garlic, minced
1/2 tsp. ground cinnamon
1/2 tsp. ground nutmeg
1/2 tsp. dried oregano
1 Tbsp. hot ground New Mexico red chile
2 bay leaves
3 1/2 lbs. boneless leg of lamb, trimmed of fat and cut into thin strips
2 Tablespoons olive oil
8 (8 inch) pita bread rounds
2 tomatoes, thinly sliced
1 onion, thinly sliced
1/2 bunch fresh mint leaves
1 cup chopped cucumber
Whisk together the yogurt, vinegar, 1/4 cup of olive oil, lemon juice, garlic, cinnamon, nutmeg, oregano, chile, and bay leaf in a bowl, and pour into a re-sealable plastic bag. Add the thinly sliced lamb, coat with the marinade, squeeze out excess air, and seal the bag. Marinate in the refrigerator 6 hours to overnight.
Heat 2 tablespoons of olive oil in a large skillet over medium-high heat. Pour in the meat and marinade, and cook until the lamb is no longer pink and is tender, 15 to 20 minutes. Stir frequently as the meat cooks. Divide the cooked lamb meat among the warmed pita breads, and garnish with tomatoes, onion, fresh mint leaves and cucumber to serve. Drizzle with tahini sauce.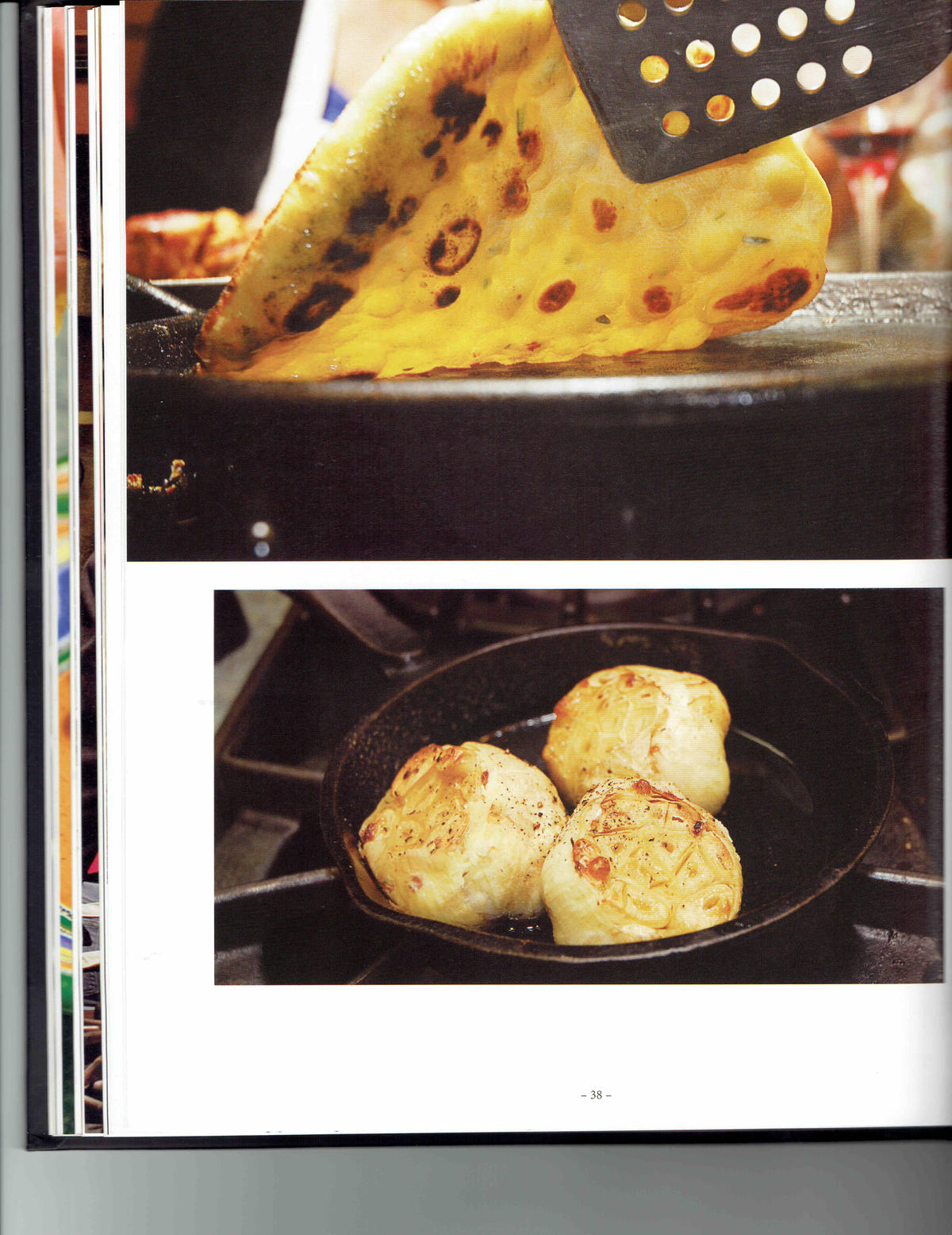 John Vollertsen is always such a popular guest and it's obvious that he truly enjoys cooking as well as teaching others to cook in his Las Cosas Cooking School in Santa Fe, NM. The recipes listed below are the ones he demonstrated - and they were all delicious. I hope you enjoy them, too.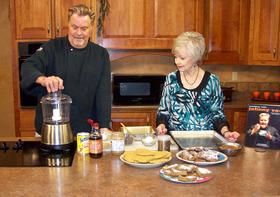 Chef Johnny Vee demonstrates a variety of recipes when he came to tape with Sheryl Borden on Creative Living.
STEAMED ARTICHOKES WITH CHIPOTLE BUTTER
2 medium artichokes, trimmed
1 stick butter
2 tablespoon canned chipotles in adobo
ARTICHOKE RAVIOLI WITH LEMON & PARMESAN CREAM SAUCE
1 recipe pasta dough, see below or package of Won Ton wrappers
1 tablespoon olive oil
1 cup artichoke hearts, diced (fresh, canned or frozen)
2 garlic cloves, minced
1 cup whole milk ricotta cheese, drained
1/4 cup grated Parmigiano Reggiano cheese
1/4 cup minced parsley 1 teaspoon salt
1 teaspoon freshly ground pepper
1 egg, beaten
For the filling:
Heat olive oil in medium saucepan and saute artichoke hearts and garlic until slightly browned. Place artichokes in medium bowl and add ricotta, parmesan, parsley, salt and pepper. Mix to combine.
Pasta Dough:
2 cups all-purpose flour
3 extra large eggs
Place flour in a food processor fitted with metal blade. Mix eggs together in small bowl and add to flour and all at once. Pulse-mix the dough until it forms a ball. Remove dough from bowl, being careful of processor blade, knead briefly and wrap in plastic wrap and allow to rest for 15 minutes. Serves 6.
LEMON & PARMESAN CREAM SAUCE
2 cups heavy cream
4 garlic cloves, minced
1/4 cup vermouth
2 teaspoons lemon zest
1/2 cup grated Parmigiano Reggiano cheese
Pinch of ground nutmeg
Kosher salt and fresh ground pepper to taste
Place cream and garlic in medium saucepan and bring to a boil. Reduce to simmer and allow to cook until cream has reduced to 1 cup. Whisk in vermouth, lemon zest, cheese and nutmeg and cook until sauce has thickened and cheese has melted. Season with salt and pepper. To finish: Divide pasta dough into 4 portions and wrap the unused portions in plastic wrap to prevent drying. Using a pasta machine, roll dough into long sheets with the thinnest setting possible without the dough tearing. Cut 2-inch circles of dough and place one teaspoon of artichoke/ricotta filling in center of dough. Brush perimeter of ravioli with egg wash and place another circle of dough over filling. Pinch tightly to seal seam. Place on flour dusted sheet until ready to cook. Repeat until all the dough has been filled. Cook ravioli in gently boiling salted water until tender, about 5 minutes. Drain and toss in sauce. Serve immediately on warm plates
LEMON ARTICHOKE & FENNEL SALAD WITH SHAVED PARMESAN
2 cups artichoke hearts, thin sliced (fresh or canned)
1 large fennel bulb, trimmed and thinly sliced*
Juice of 1 lemon
2 teaspoons extra virgin olive oil
2 ounces Parmigiano Reggiano, thinly shaved
Sea salt and fresh ground pepper to taste
Toss all ingredients except the parmesan in a medium bowl. Gently add parmesan and scatter salad on serving platter. Season with salt and pepper and serve immediately. Serves 4.
*Gadget Gab - There are a variety of mandolins available that make this job a breeze. The thinner the slices of fennel, the more delicate the salad will be. I prefer the Rosle mandoline and recommend using a Mani-Kare cut resistant glove to protect those fingers.
Great Guacamole
The buttery rich flavor of avocados and the natural health benefits from eating them, make this recipe a "must" to have on hand. Full of vitamin E, potassium, magnesium, fiber and those heart-healthy monounsaturated fats, everything about avocados is great. Hence the name great guacamole.
2 ripe Haas avocados
2 teaspoons fresh lime juice
1/2 teaspoon kosher salt
2 garlic cloves, minced
1 Roma tomato, finely diced
1/4 cup onion, finely chopped
1 large jalapeno, minced
2 scallions, fine chopped white and green parts
3 tablespoons fresh cilantro, stemmed and chopped
Halve and pit avocados. Scoop out flesh into medium bowl. Using two dinner knives cross cut avocados into small 1/2 inch pieces. Add lime juice, salt, and garlic and mix slightly. Fold in tomato, onion, scallions, jalapeno and cilantro. Cover guacamole with plastic wrap that has been pressed right onto the surface of the avocado and refrigerate. This will keep it from browning for up to three days. Makes 2 cups.
Charred Salsa Roja
3 medium, ripe tomatoes
1/4 medium white onion
1 jalapeno
2 garlic cloves
1 tablespoon fresh squeezed lime juice
1 tablespoon fresh cilantro
1/2 teaspoon red wine vinegar
1/2 teaspoon salt
Stem tomatoes, slice in half and place on hot grill with onion, jalapeno and garlic. Grill for 10 minutes or until nicely charred. Peel and seed jalapeno. Peel garlic cloves. Put jalapeno, tomato, onion and garlic in blender with remaining ingredients and puree until smooth. Chill and serve. Makes 1 1/2 cups.
Sopaipillas
Makes about 24 small puffs
2 cups all-purpose flour
1/2 teaspoon baking powder
1/2 teaspoon salt
2 teaspoons lard, vegetable shortening, or butter
1 1/2 teaspoons active dry yeast (optional)
1/4 cup warm water (110°F, 45°C)
about 1/2 cup milk at room temperature
vegetable oil for deep-frying
Combine the flour, baking powder, and salt in a medium-size bowl, and cut in the shortening until the mixture resembles coarse cornmeal. Dissolve the yeast in the warm water in a small bowl and add cooled milk, stirring well. Add some of the milk to the dry ingredients and work into the dough. Add more liquid gradually until the dough is firm and springy and holds its shape. Knead dough thoroughly, about five minutes, until smooth, firm, and elastic. Invert a bowl over dough and let rest for 10 minutes or until dough is softened. Heat three to four inches of oil in a deep-fat fryer until they reach 375°F (350° at high altitude). Work with one-half of the dough at a time, keeping the balance well covered with the bowl. Roll a section to 1/8 inch thickness, then cut into triangles or 2 1/2 inch squares; DO NOT reroll any of the dough. Fry sopaipillas a few at a time, they should puff up and become hollow soon after they are immersed in the oil. If they don't puff up, keep hold under the surface of the oil with tongs or spoon until they do puff. Drain on paper towels. Variation- For Orange Sopaipillas - add the zest of an orange into the milk and then combine with the dough. Finish recipe as above.
Rosemary Roasted Vegetable Enchiladas with Goat Cheese & Pesto
For the vegetables
8 oz. Brussels sprouts, halved
3 medium carrots, chopped
2 medium parsnips, chopped
2 zucchini, cut into 1/2 inch circles
1 small yellow onion, chopped
4 tablespoons olive oil
Kosher salt and freshly ground black pepper, to taste
2 sprigs fresh rosemary, leaves removed
Heat oven to 400° F. Place Brussels sprouts, carrots, parsnips, zucchini and onion on a baking sheet; toss with 4 tablespoons pepper. Sprinkle with fresh rosemary. Bake until tender, about 25 minutes; let cool.
For the sauce
1 cup loosely packed basil leaves
2 garlic cloves
2 tablespoons toasted walnuts
1/4 cup extra virgin olive oil, or more
1/4 cup freshly grated parmesan
Juice of 1/2 lemon
Fresh ground pepper
1 cup Béchamel sauce
10 oz goat cheese, crumbled (about 1 1/2 cups)
Prepare the pesto by combining basil, garlic, walnuts and lemon juice in a food processor. Blend until smooth. With the motor running, drizzle in the olive oil and blend until smooth. Add Parmesan and pulse to combine. Check pesto for seasoning. If a thinner pesto is desired add additional oil. Whisk in Béchamel sauce. Serves 6.
BECHAMEL SAUCE
Half of small onion, peeled
20 whole cloves
3 tablespoons unsalted butter
1/4 cup all-purpose flour
3 cups milk
1/4 teaspoon salt
white pepper to taste
1/4 teaspoon ground nutmeg
"Stud" the round side of the onion with the cloves. Place the onion in a medium saucepan and cover with milk. Bring milk to a simmer over medium low heat. Turn heat off and allow the milk to sit for 15 minutes. In another medium sauce pan melt butter over moderately low heat. Whisk in the flour and cook the roux, stirring, for 3 minutes. Remove the onion from the milk and pour over the roux in a stream, whisking vigorously until the mixture is thick and smooth. Season with salt, white pepper, and nutmeg and simmer over low heat for 10 minutes. Cover the surface with a buttered round of wax paper to prevent a skin from forming.
To assemble the enchiladas: Place vegetable oil in a deep skillet. Heat to 350° F and fry 12 corn tortillas for 30 seconds each to soften. Drain tortillas on paper towels. (If using freshly made corn tortillas you can skip the flying step.) Place one tortilla on an ovenproof plate and top with one portion of vegetables. Top vegetables with 1 table-spoon goat cheese and 2 tablespoons sauce. Place another tortilla over first layer, place another portion of vegetables on tortilla and ladle 2 tablespoons sauce over this layer and top with 2 tablespoons goat cheese. Repeat this process until you have 6-plated enchiladas, each two layers high. Bake enchiladas at 400° F for 10 minutes or until cheese is melting and bubbling. Garnish each plate with sprig of cilantro. Makes about 3 cups.
KID'S CHOCOLATE ICE CREAM TACOS
6 taco shells
3 cups vanilla ice cream, softened slightly
1 cup chocolate chips
1/4 cup toasted nuts, chopped
1/3 cup chocolate syrup
Powdered sugar
Carefully fill each taco shell with 1/2 cup ice cream and place in freezer. Place chocolate chips in a small metal bowl set over simmering water. Allow chips to melt completely and remove from heat. Put nuts in a shallow medium bowl. Dip the edges of each taco shell into the chocolate and then dip immediately into the nuts. Return to the freezer until ice cream is firm. At this stage you can place each taco in a small zip lock bag and store for up to one week. To serve, drizzle chocolate syrup in a swirl design on each serving plate. Place taco on plate and drizzle with more syrup and dust with light sprinkling of powdered sugar. Serve immediately.
Chef Chat - Experiment with different flavors of your favorite ice cream, or try combining sorbets and ice creams. The nuts you use can be changed out for pine nuts, pistachios, pecans etc. Kids love making these tacos. Buy extra taco shells in case they arrive broken or break as you are filling them. To refresh the crispness of store bought taco shells, bake in a 300° F oven for 5 minutes. Allow them to cool completely before filling with ice cream. Serves 6.
Gluten-Free Peanut Butter Cookies
2 cups natural-style peanut butter
1 1/3 cups white sugar
2 eggs
2 teaspoons baking soda
1 pinch salt
1 teaspoon vanilla extract
Preheat oven to 350 degrees F. Line cookie sheets with parchment paper or use a Silpat liner for best results. In a medium bowl, stir peanut butter and sugar together until smooth. Beat in the eggs, one at a time. Stir in the baking soda, salt, and vanilla. Roll dough into 1 inch balls and place them 2 inches apart onto the prepared cookie sheets. Press a criss-cross into the top using the back of a fork. Bake for 8 to 10 minutes in the preheated oven. Allow cookies to cool on baking sheet for 5 minutes before removing to a wire rack to cool completely. Store in an airtight container.
Gluten-Free Garbanzo Blondies
1 15 oz. can garbanzo beans, drained and rinsed
1/2 cup creamy peanut butter or almond butter
1/3 cup real maple syrup
1/2 teaspoon baking powder
1/4 teaspoon baking soda
1/2 teaspoon salt
2 teaspoons vanilla
1 egg
1/3 cup plus 2 tablespoons chocolate chips
Preheat oven to 375° F. Place all ingredients except chocolate chips in a food processor. Blend until smooth. Remove lid and blade and stir in 1/3 cup chocolate chips. Spray an 8 inch x 8 inch pan with non-stick spray. Pour batter in to pan and spread out. Top with remaining chips. Bake for 25 minutes until toothpick comes out clean. Cool on wire rack and then cut into squares.
Gluten-Free Bittersweet Decadence Cookies
1/4 cup rice flour
1/4 teaspoon baking powder
1/8 teaspoon salt
8 ounces bittersweet chocolate chips
2 tablespoons unsalted butter
2 large eggs
1/2 cup sugar
2 teaspoons pure vanilla extract
1 cup pecans
6 ounces bittersweet chocolate chips
2 sheets parchment paper
Preheat oven to 350° F degrees. In a small bowl, mix the flour, baking powder, and salt together, set aside. Place 8 ounces of bittersweet chocolate chips and butter in a medium bowl over a pan of simmering water. Stir the chocolate butter mixture until is melted and smooth, set aside. In a heatproof bowl, whisk the eggs, sugar, and vanilla thoroughly and set the bowl over a pot of barely simmering water using it like a double broiler. Continue to whisk everything until the mixture is lukewarm. Combine the egg mixture and the chocolate mixture (should be lukewarm as well) stirring until they are well combined. Add the flour mixture, 6 oz. chocolate chips, and pecans. Your batter will look like thick cake batter. Scoop dough (it will look very wet and sloppy) into rounded tablespoons on a cookie sheet lined with parchment paper 2 inches apart from each other. Bake for 14 minutes until the surface of the cookies look dry and set. With the cookies still on the parchment paper, slide them onto racks to cool. Gently peel the parchment paper back after cookies have cooled for at least 30 minutes.